Pictures


---
News

2007-11-08: Aaaaannnnnnnnddddddd...... we're back. I'm sure you're asking yourself "Why hasn't that lazy (expletive of your choice, be creative!) updated Niklas's site lately?" Well, I assure you that it's not because Niklas and I have been busy drinking all day. Definitely not. No, it was actually due to a critical system failure of my laptop. It's hard to say who's responsible for this, but I've got my top guy investigating. Anyway, there's lots to update you on and I'll get to that as soon as I download some new html editing software (how am I doing this now? Magic!).

---
2007-11-11: Well, the site redesign I had planned to do in honor of Niklas's birthday two months ago is underway. You can look forward to... umm... different colors and... uh... possibly slightly improved functionality. It'll still be a couple of days before everything is shook out, but I hope to get some new pictures and newsy type stuff up tomorrow. If anything's not working for you, email your grievances to Niklas.W.Smith@gmail.com and Niklas will try to get things straightened out.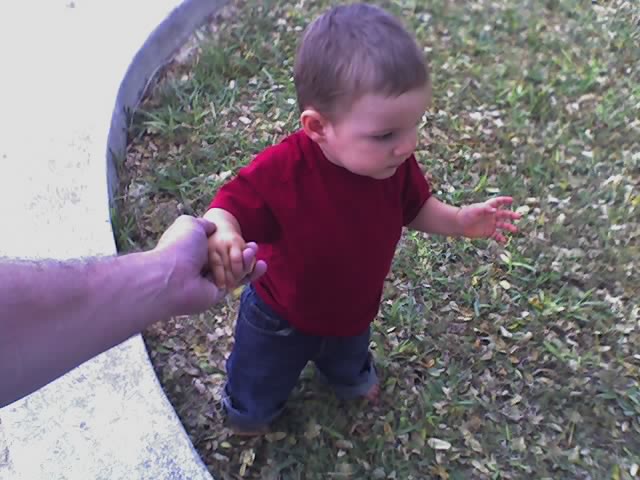 ---
2007-11-12: So, doin's have transpired over the last couple of weeks. What kind of doin's? Glad you asked. As you could probably tell from last months pictures, Niklas was due for a haircut. Well, he's due no longer. Amazingly, the barber shop we went to for his haircut last month agreed to cut his hair again. I had a theory that giving him a bottle would curb his rage at cutting of his hair. Top scientists as well as the staff and other patrons of the barber shop have conlculded that said theory was incorrect and that I am a stupid, stupid man for having thought it up in the first place. On the plus side, the new hair cut looks pretty good.

We also got Niklas some shoes, which he delights in taking off. I thought these might be useful in aiding his improving two legged mobility, but he prefers to walk about (as it were) hobbit style.

I'll have some more recappy type stuff tomorrow. In the meantime, here are some new pictures.

---
2007-11-13: We've been hanging out at the playground quite a bit lately. There's a pretty good one just east of Warwick Long Bay which is just east of Horseshoe Bay, photos of which are available en mass here. The swings are just as popular as ever, but there are a bunch of other things that Niklas enjoys playing on (sometimes incorrectly). Niklas has also enjoyed some walking about and snacking.

Niklas and I ran all kinds of errands today (lightbulbs! groceries! excitement!). On account of how he was such a good boy and also because it's his fourteen month birthday (and because he had been pushing the kitchen stools around making a horrible grinding, screeching noise), we got him a walk about thingy. It's proven to be quite popular, though still not as popular as getting into things he's not supposed to. That currently has no real competition.

What's that? You want a picture update? A very small picture update? How could I say no to that?

---
2007-11-20: You know what we haven't had in a while? A good diaper disaster story, that's what. A couple weeks back, Niklas and I took the ferry into Hamilton. As I am responsible, I always make sure to have at least two extra diapers with me whenever we leave the house. Responsible. Anyway, as I have no problem doing the bare minimum, on this day, the diaper bag (or, if you will, my backpack), was loaded with two (2) clean diapers. Because I really strive to minimalism, one of the two was a Little Swimmer diaper. These are the diapers you use to keep your kid from befouling the pool. I guess putting a regular diaper in the water will lead to an unhappy baby with a fifty pound diaper. Moving along, right as we got to town, Niklas filled his diaper (Diaper 0, as it was the one he wore from the house) with a load of "change me RIGHT NOW" poop. As I am responsible (see above for further description of my responsibility) and adverse to forcing my son to travel about with his own filth strapped to his body, I responsibly changed that diaper with responsible quickness. Due to the lack of changing facilities in most public men's rooms, this responsible diaper changing took place in the park. It's like camping... with a bunch of people in business attire. So now Diaper 1 was in play and remained so as Niklas and I went about our daily business of errand running (me) and shameless flirtation with ladies of all ages (Niklas). Usually, we'll take the 11:55 ferry into town and catch the 1:45 ferry back, but on this particular day, either the errand running or the shameless flirtation took a bit longer than usual. This isn't a big deal as there's a bus that leaves Hamilton toward our place every fifteen minutes. The downside was that the extended trip (probably do to Niklas batting his eyes at every one of the 30,000 women on the island and absolutely due too no fault of mine) was long enough to allow Diaper 1 to reach its capacity for urine containment. I was not concerned because A) I still had Diaper 2 in the bag and B) there's a park right near the bus terminal. In hindsight, I should have been perhaps a trifle concerned on account of how A) the Little Swimmer was Littler than required for man of Niklas's advanced bulk and B) the secret to the Little Swimmer's ability to not blow up in the water is apparently its complete and utter lack of absorbency. I think you can see where this is going. Let me also add that Niklas doesn't care to sit still on the bus. He'll hang out for a bit, but after a while he prefers to stand on my lap and try to climb over my shoulder. This is how I ended up soaked with pee (not my own) from my shoulder down to my lap. I suspect that if I had foregone the diaper altogether, I would have ended up no more urine covered than I was. On the plus side, Niklas was in good spirits about unleashing a deluge of waste on me and he made friends with several ladies on the bus.

Who likes burying a lede? Me, that's who. Niklas took a couple of steps today. He was hanging out at the coffee table, waiting for me to set the remote down so he could abscond with it, when he noticed my laptop on the ottoman few feet away. Niklas, who cannot resist the opportunity to compute, laughed maniacally, took two unassisted steps over to the ottoman and tried to War Games up the place.

---
2007-11-21: When we first moved to Bermuda, the two hour time change awesomely changed Niklas's wake up time from 6:00 to 8:00. However, after three months and the expiration of daylight savings time, he's most unawesomely back to getting up a 6:00. Curse you, science! On an unrelated note, here are some new pictures delivered to you thanks to advances in my beloved science.

---
2007-11-25: Niklas wishes everyone a belated happy Thanksgiving. He certainly had a good one. It started off with cookies for breakfast which we followed up with a trip to the beach. Niklas then helped me cook Thanksgiving dinner by taking just about everything we own out of the kitchen cabinets to see if I needed any of it for anything. Niklas has radical ideas about what should be stuffed into a turkey, let me tell you. Later, Niklas exhibited an amazing grasp of the American tradition of stuffing oneself on Thanksgiving. He ate a bunch of turkey, stuffing, green beans and cranberry sauce in addition to consuming his weight in mashed potatoes. Niklas believes that moderation is for suckers. He illustrated that belief by finishing up the evening with a piece of pie.

Yesterday, we went to the beach to take Niklas's Christmas card picture. A good time was had by all as far as beach fun goes. The picture taking was less awesome due to Niklas's ability to be distracted by sand, water and plants and his love of looking away from anyone who says "look at the camera, Niklas". Out of about 130 pictures, we got one that's pretty ok.

Speaking of pictures, here's this.

---
2007-11-27: Niklas has a bit of the diaper rash. Always one to see the bright side of things, he has turned this rash into a learning experience; namely, that if he scratches his rash, it will feel better. Though I applaud his efforts both to learn new things and make his butt feel better, I am dismayed by the fact that whenever I'm trying to change a poopy diaper, he's grabbing big handfuls of his own waste and smearing it all over himself, others and various pieces of furniture. I do not share his vision of the bright side.

Niklas is getting ever closer to walking. Today, he took four steps in a row before making an unplanned visit to the carpet. He's not just moving between nearby objects, either. Several collapses today took place as he was on his way the vast expanses of the middle of the floor. I suspect he has some sort of elaborate plan for spectacular mischief that I will one day soon be on the losing end of, much as I was at the first ever wishbone showdown between Niklas and me.

---