Pictures


---
News

2007-12-03: Well, it took less than a week for Niklas to go from tentatively traversing the foot and a half between the coffee table and the ottoman to pretty much walking wherever he pleases. He still needs to pull himself up to standing, but once he's up on two legs he's off. About half of the time, he's really off, attempting to go much faster than his short guy legs will allow. This leads to some hilarious (to me, the guy who's not falling) wipeouts that he shakes off with no problem.

Sadly, his desire to get into various drawers and cabinets has shot up at the same tremendous rate as his walking. Over the past few days I've had to confiscate beaters, food processor parts, my pizza crust docker (a rolly thing with spikes that's immensely popular), an assortment of plastic wraps and bags and also a bit of garbage. Because he's a bit of a weirdo, he took all of the diapers out of one of the cabinets in his changing table and put them into one of the drawers instead. That, I mind less.

I'm happy to report that Niklas's bath strike appears to be over. I didn't mention the bath strike? That's probably because my battle royale with Bermuda Cablevision has occupied a substantial amount of my time lately. That, or I'm lazy. Anyway, when he first mastered standing up by himself a couple of weeks ago, he developed an incredible aversion to sitting down. As standing up in the bathtub is quite verboten, this led to conflict; conflict marked by the ear splitting screams of Niklas. Now that he's tiring himself out with the walking, sitting down doesn't seem so bad.

---
2007-12-05: Niklas and I went to the playground today. It was our first trip there since Niklas started walking, so he had a blast using his new skills to stomp (he stomps when he walks) between the various implements of entertainment. Particularly popular today were the slide and the big wooden train thing. There are a bunch of wild chickens that hang out at the playground. They joined birds, dogs, pigs, penguins, actual cats and a dumpster in the "things that Niklas calls 'kitty'" category. To be fair to him, the dumpster is where he most often sees (actual) cats, so maybe he might not be confusing a five foot high trash can with an eight pound mammal.

Random Thing That Would Have Bothered Me A Year And A Half Ago But Doesn't Faze Me At All Now: Today, while Niklas was taking a nap, I noticed that I had poop on my pant leg. I have no idea how this happened.

---
2007-12-09: Last Thursday was St. Nicholas Day, which for some reason isn't Christmas. I guess some other guy called that day. Anyway, as Niklas is in good with St. Nick (you know, because they have similar names), he made out pretty well with a Little People Nativity Set. It has nearly twenty easy to hide about the house pieces and it will teach Niklas both about the Christmas story and the joy of playing with Nativity sets (seriously, lock up your baby Jesus when Niklas comes by). It's been educational for me as well. For instance, I did not know that a couple of the wise men were into scuba diving. Niklas illustrated this historical truth to me with a re-enactment with the toilet playing the role of Dead Sea (also into scuba diving was the tv remote). Toilet diving aside, it's been a pretty popular toy. Niklas is always carrying one of the pieces around in his kung fu grip.

Also popular with Niklas is a book I (stupidly, stupidly) bought him of the twelve days Of Christmas re-interpreted by Sesame Street's Elmo. The twelve days of Christmas is alright if you hear it once or twice a year, but is brain meltingly brain melting if you are forced by a tiny terrorist ("Sing this or I'll start screaming!") to sing it as many times per day as there are monsters drumming. There are twelve of those, by the way.

Yesterday we went to the beach. Niklas is well past any hang ups he had about going into the ocean, which is good... except when you're just going to the beach to play in the sand and don't really want him to run crazily laughing into the Atlantic. Thankfully, we were able to corral him before he reached the Cayman's. Despite the swimming prohibition, he had a good time playing in the sand, trying to eat the sand and trying to eat things that he found in the sand, none of which were appropriate for eating. I had a good time playing with dinosaur sand toys.

Pictures? Yup.

---
2007-12-10: Yesterday, we took Niklas for his first ever meeting with Santa Claus. Keeping with the positive nature of the season, I will say that it could have gone much, much worse. Niklas had no particular objection to seeing Santa (who, in a move very popular with me, was entertaining children in a brew pub), but he found the concept of sitting on the lap of some stranger in a red suit to be a wail worthy experience. Despite Niklas's lack of enthusiasm, Santa gave him a new teddy bear and promised to hook him up even more come Christmas. Afterwards, Niklas enjoyed some lunch and tried to set the record for "most Cheerios thrown on the floor of a brew pub after seeing Santa Claus".

Throwing food on the floor is, inconveniently enough, Niklas's new thing. You would think that a man of his prodigious appetite would never tire of eating. Fool! Niklas has the ability to get sick of things much faster than mere mortals. When he's tired of eating something, he'll take a piece of it in his hand, look you (well, me or Andrya) straight in the eye, stick his arm out over the side of his high chair and drop whatever it is he's sick of onto the floor while giving you a "what do you think of that?" look. If you (well, me or Andrya) are not quick enough to remove the offending food, he'll just keep carefully and deliberately dropping pieces of it onto the floor. Now, if you're are the type of person who objects to having food on your floor (like Andrya is), you might try to pick up whatever he's dropped before addressing the fact that Niklas still has access to a pile of food that he has no interest in eating. If that is the case, you (like Andrya) might find yourself with ground turkey on your head. Luckily, I could care less about food on the floor and my head has remained turkey free. I have walked through a pile of peaches, but I'm cool with that.

Today, Niklas and I went to the aquarium and the zoo (they're part of the same complex). Niklas said "fish" for the first time and continued to correctly identify fish as such for about ten minutes before deciding they looked more like ducks. He also called a peacock a duck, but he wouldn't tell me what he thought an actual duck should be called. Niklas was very excited when I let him walk around the zoo grounds and he had fun laughing and clapping his hands at me when I was laughing and clapping my hands while looking at the tiny monkeys. Tiny monkeys! Hee hee!

No new pictures today (the yelling made pictures of Niklas and Santa un-good), so here's this from last year: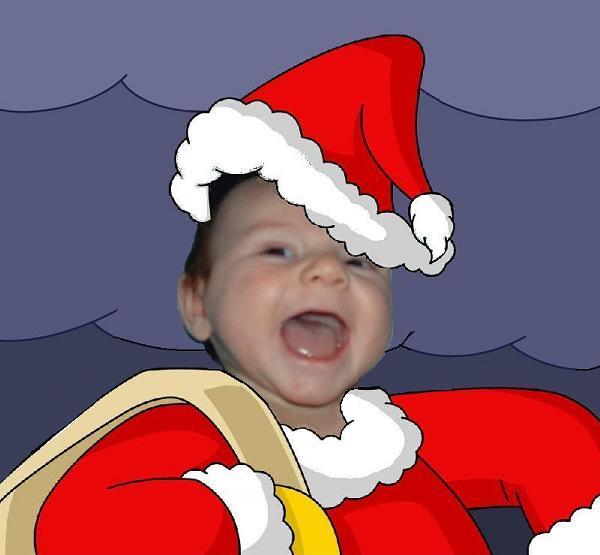 ---
2007-12-12: It would not be an exaggeration to say that yesterday was the worst day Niklas and I have had since we started working together in early September. Therefore, I will say this: yesterday was the worst day Niklas and I have had since we started working together in early September. Niklas got up at his normal time (6:30-ish, these days) and everything was fine until he went down for his morning nap (at about 8:30-ish). An unholy convergence of teething, poop issues and a visit from condo maintenance supervisor extraordinaire Neil (whom Niklas for some reason hates with an intensity greater than that of a thousand suns) disrupted that would be nap and set off nine and a half straight hours of fussing. He cried when he was sitting on the floor, when he walking around, when he was on my lap, when I carried him around, when I read him stories, when I sang him songs, when he was eating, when we were hot air ballooning and when we battling sea creatures from beyond the moon. I may have imagined those last two, the nine and a half hour fuss takes its toll on the brain.

Today was much better. Niklas and I ran some errands, ate some food without yelling and still found time to take some pictures.

---
2007-12-13: Niklas went to the doctor's office today. This necessitated a revision of his enemies list which now reads as follows: Neil the maintenance guy, Mr. Clee (our neighbor), his barber, my mom's cat and his new doctor. I'm apparently the only guy he likes on the entire island of Bermuda. Conversely, I don't think he's met a lady he doesn't like. Anyway, other than hating on the doctor, everything went well. Niklas is 24 pounds, 4 ounces and he's 31 inches long. He's also got a fat head, but I don't remember exactly what the dimensions were on that. He had a shot that was most unpopular (like vodka is with me, but this one prevents disease instead of promoting stomach discomfort), but he recovered from that quickly enough. Then, we went to the park and did some action packed walking about.

---
2007-12-16: As I've mentioned before, Niklas is all about taking things out of drawers, boxes and secret hiding places I spent months developing. Lately, he's started taking these things from their proper (but, apparently, ever so boring) locations and moving them to containers that are either easy to transport or just completely inappropriate. Seriously. Andrya has high hopes that this will one day lead to him putting his toys away in an orderly manner while I am convinced that one day soon I will pull my iPod out of a load of wet laundry.

Other than the hijinks with the washing machine, we pretty much laid low this weekend. In a few days, though, the laying will be decidedly un-low. See?

---