---


2009-12-07:
Right, then. I've recently returned from a race around the world which, sadly, precluded me from updating Niklas's site.




Well. I guess I see how it is. Anyway, Niklas has been keeping quite busy lately.

So, Thanksgiving! People still remember that. Grandma and Grandpap Vennard took the train up from St. Francisville (well, Effingham) to spend the day with Niklas and say polite things about my cooking. Niklas and I headed down to the train station to pick them up after having failed to account for 1) the train being early and 2) the fact that 90% of the roads around our house are closed on Thanksgiving for what was either a masochist convention or the annual Turkey Trot race. In my defense, every time I take the train anywhere it's all kinds of late and I've never been in the city for Thanksgiving, so I didn't know that there was race, let alone the fact that it would for some reason keep you from getting on Lake Shore Drive in a timely fashion. After that bit of a setback, though, the day went well.

Grandma and Grandpap Vennard hadn't been up to Niklas's new house yet, so he had a fabulous time showing them his room, his big boy bed, where the stairs to the roof are and the vacuum cleaner amongst other things. Niklas had a great time playing with Grandma and Grandpap and they did a great job of keeping him out of the kitchen whilst I flung flaming bits of food and knives and whatnot about. At dinner (which was actually lunch), Niklas ate a bit of turkey and his weight in cranberries. He then claimed he didn't like mashed potatoes or corn despite ample historical evidence to the contrary. Niklas also ate a couple of pieces of pie, which was a good move because Andrya makes awesome pie. After he stuffed himself, Niklas played with Grandma and Grandpap some more (Grandpap showed him he could drive his remote control car under the couch) and then we took them back to the train. I would guess some more stuff happened that afternoon, but I put myself into a turkey coma, so who knows.

The week after Thanksgiving (which was also last week, see? I'm not that lazy), Andrya had to go to Bermuda for work, so Niklas and I were left to our own devices. Sunday morning, we drove Andrya to the airport and then spent the day watching football. Niklas let me decide what we were going to do on Sunday. On Monday, we went to the gym in the morning (they have a playroom that Niklas loves; I think he has a thing for the lady who looks after the kids) and then ran a bunch of errands, so that wasn't exactly a thrilling day.

We went to the Children's Museum at Navy Pier on Tuesday. Niklas loves that place. He climbed on the giant fire engine and ran amok in the rest of the fire safety exhibit. He had a really good time on the pretend ice rink they have right now. It's pretty much some polished linoleum that you run and slide on with your socks, but he thought it was pretty outstanding. He also drove the pretend bus, pumped some gas in the pretend gas station and shopped in the pretend super market. Niklas is a fan of pretending. The highlight of the day for Niklas was probably lunch at McDonald's, which he considers to be the highest of haute cuisine. Also, you get a toy there.

On Wednesday, I told Niklas that St. Nicholas Day was coming up and if he was good, he'd get some stuff in his stocking. He responded by telling me that he wasn't St. Niklas, he was regular Niklas. "I not St. Niklas yet, Daddy." Apparently, he plans on really stepping up, behavior-wise. That afternoon, we went to his skating class, so that was fun. He's getting a lot better. He doesn't need the push sled thingy any more, but he goes much faster with it than without. He's still got another few months of the Icicle Club before he's old enough for the proper skating instruction, though, so he's in good shape.

Thursday, we drove down to Bloomington to see Grandma and Papa Meeker. Niklas had a fine time at their house playing with Andrya's old toys that they brought up from the basement and talking to Murphy the cat, who pretty much responded with hisses and growls. After lunch at Chipotle (which I've taught Niklas to love; success!), we went to the Children's Discovery Room, which has all kinds of cool stuff. Niklas wore his grandparents out pretty good playing with toy cars and trains, going to the pretend dentist, making a pretend pizza (with absurd amounts of sauce and cheese and, for some reason, his mortal enemy broccoli) and driving the pretend combine. There was a model of a landfill that you could walk through, Niklas thought that was pretty awesome, too. Grandma and Papa Meeker then took us to the bookstore where they got Niklas a couple of awesome Christmas books. They bought me a couple, too, on account of how I am also a very good boy. I was hoping Niklas would take a nap on the way home on account of how we had spent nap time building a fort at the Discovery Room. He did fall asleep, but not until we were on Lake Shore Drive, about 15 minutes from home and 20 minutes from bedtime. Even so, it was a fun day.

Friday, we laid low until it was time for Niklas's music class. Then we went to music class. Niklas always has a good time there. In January, he's moving up from the Wigglegrads to Little Drummers, which I think is guaranteed to be 70% more noisy. I don't remember what we did Friday afternoon, but it's safe to say it was something. That evening, Niklas got to hang out with his babysitter Tara while I went to dinner with Jared and Dana. We had set that up before we realized that Andrya would be coming back from Bermuda on Saturday instead of Friday. Niklas was able to shake Tara down for five bedtime stories, so he wasn't complaining.

Saturday was freezing (literally so, but nowhere near as bad as it's going to be; it's possible that Bermuda has made me soft), so we hung out at the house. Niklas worked on his latest mess making project and watched How The Grinch Stole Christmas for the thirtieth time since I told him it was Christmas time last Sunday. After Niklas's (and my) nap, we went to the airport to pick up Andrya. It was the longest they've ever been apart, so they were very excited to see each other. After hugs and kisses all around, we hit the Target, grabbed some sandwiches at Potbelly's and went home.

Sunday, we went to the Home Depot to get our Christmas tree. Niklas was excited because we only had a two foot fake tree in Bermuda and he didn't remember the big real tree from his first Christmas. Andrya was excited because we live close enough to the Home Depot to carry the tree home so we didn't have to needle up the car. Niklas had a fabulous time decorating the tree. He only smashed one ornament, bringing his Christmas related glass crushing to a reasonable total of two this year. (My snow globe featuring fishing penguins met an unfortunate end earlier in the week.) Andrya has a Christmas village ornament set that Niklas is pretty excited about for whatever reason. He's memorized pretty much what every building is and where it is on the tree. As long as they stay on the tree, I guess we're in good shape.

That brings us to today. This morning, we woke up at 5:00 to take Andrya to the train station on account of how she had to go to Milwaukee. Niklas got a donut on the way home, so that make waking up early totally worth it for him. In the afternoon, we did some grocery shopping and watched the Grinch a few times. And I guess we're all caught up.

There are a few new pictures up here. New in that you haven't seen them before, not so much in that I've taken them recently.
---
2009-12-08:
So, Sunday was St. Nicholas Day. Niklas got some Matchbox cars, some candy and an apple in his stocking. He thought that was pretty awesome. Then he asked if his stocking would be filled up the next day, too. Andrya explained to him that he wouldn't get anything else in his stocking until Santa Claus came on Christmas Eve, but that hasn't stopped him from checking the past two mornings. He doesn't seem upset or anything that there's nothing there; I guess he's just being thorough.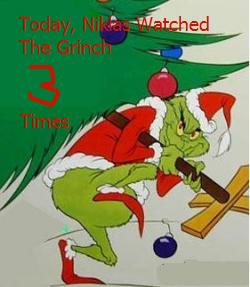 ---
2009-12-09:
Today, Niklas and I did some Christmas shopping. The weather was appropriate, what with the cold, the snow, the wind and whatnot. Thus, I had ample opportunity to carry Niklas's coat around in stores. The only time he didn't take it off immediately whenever we went indoors was when he had to pee. I assume that this is because he likes to freak me out by coming millimeters away from making me decide whether it would be better to let him go outside without a coat or with one that's covered in urine. Anyway, the shopping went well and Niklas now has a list for Santa that is about a mile long.

In the midst of our retail tour of Chicago, Niklas had his skating lesson. That was a good time. Niklas decided that he wanted to skate by himself, meaning that I go out on the ice with him wearing my boots instead of my skates. I'm not sure why this made a difference to him, but he was fairly insistent. Maybe he was hoping I would fall down. Too bad, Niklas!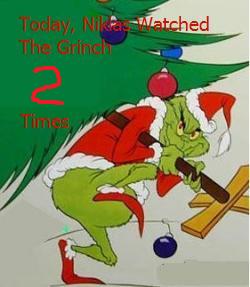 ---
2009-12-10: Niklas learned an important lesson about life in non-sub-tropical climates today. Namely, he learned that locks can freeze. This is why he and I had an awesome time walking around our neighborhood in single digit temperatures looking for a store that had the foresight to order lock de-icer that we could use to gain access to our garage. It turns out that surprisingly few local businesses fall into that category. Niklas was sufficiently bundled up, at least. He's named his hat Mr. Cash. I have no idea what that's about. On a related note, he's named our Christmas tree Mr. Bash. I hope that's not an indication of his intentions towards the tree.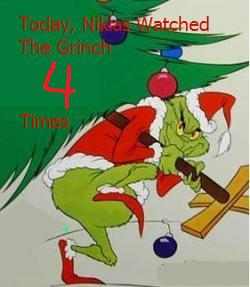 ---
2009-12-11: Today, Niklas helped me make some pizza. About halfway through, he said he "I have to do some work now, Daddy." He hopped down from his assistant's chair (it's really just a regular dining room chair that we drag in the kitchen) and went over to his play area. He banged around over there for a while and then I saw him walking towards his room with his Elmo computer, his blankey and a Don't Break The Ice box filled with random balls. "I do some work now. I see you later." Then, he went into his room, put the box in the cabinet under his desk and computed for a while. Ten minutes or so later he came back. "I'm all done," he said. I have nothing further to report.

Except this: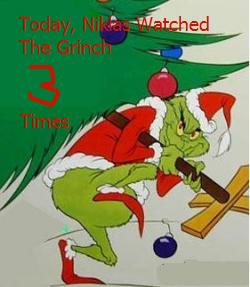 ---
2009-12-12:
My favorite Niklas misinterpretation of a lyric in "You're a Mean One, Mr. Grinch": "Your soul is an appalling donkey."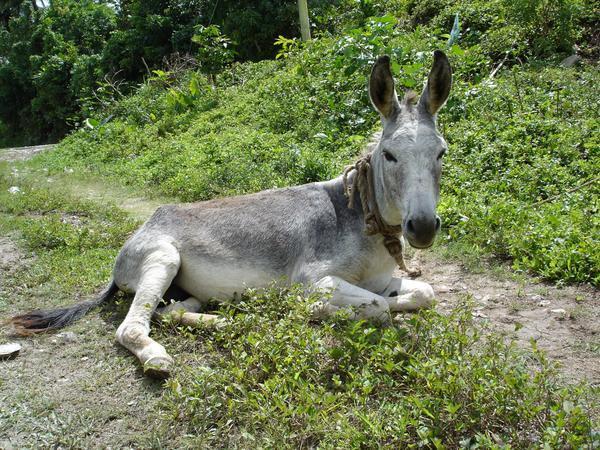 Saves me from having to explain what a dung heap is, I guess.
---
2009-12-13: So, yesterday we took Niklas to the zoo to see the Zoo Lights. Niklas thought the lights were OK, but he was much more excited to see Santa Claus, who was taking a break from his toy manufacturey at the North Pole to hang out in the lion house. Niklas told Santa what he wanted for Christmas and he didn't scream while doing so, so it was an improvement over last year.

Another thing Niklas wanted to do at the zoo was ride the carousel. We waited a while in line (which was actually longer than the line to see Santa) and then grabbed a spot on a giant bird with a red head. Niklas seemed pretty excited until the carousel started to move, then he started screaming. Seeing as how he's OK with roller coasters, I wouldn't have expected him to have a hard time with a Merry-Go-Round. Show's what I know. Anyway, there's pictures of Niklas's recent adventures up here.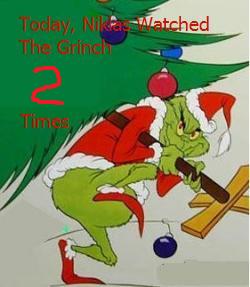 ---
2009-12-14:
Here is a picture that illustrates Niklas's difficulties with putting his outerwear in the proper places: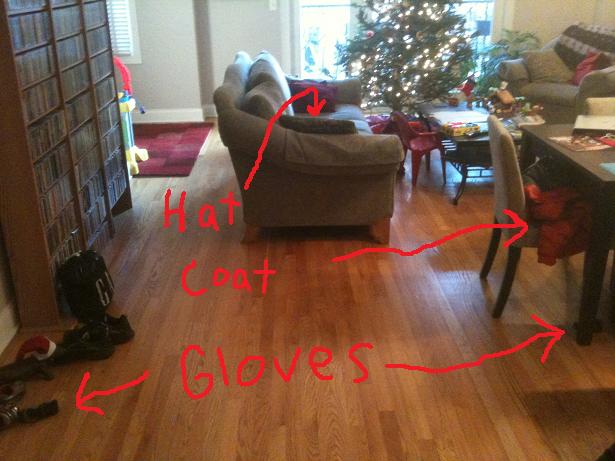 Also, it's been brought to my attention that I haven't posted a picture of our Christmas tree that Niklas decorated with the bare minimum of ornament smashing. So, here's this: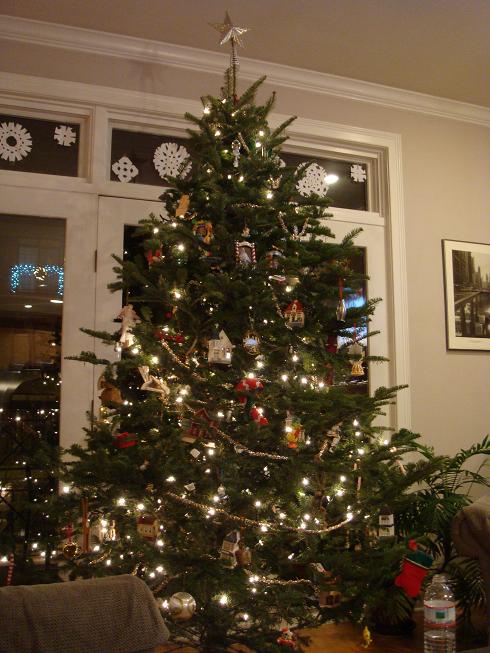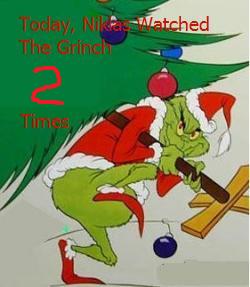 ---
2009-12-17:
So, The Godfather has been in town since Monday. Niklas has been showing him a good time, assuming he thinks that going to the grocery store, Niklas's barber and the Best Buy are prime vacation destinations. And really, who wouldn't? Speaking of haircuts, Niklas's barber moved himself onto Santa's naughty list by providing the boy with the most substandard haircut of his life. Unless clippering random chunks of hair out is the new style, things didn't go as well as I may have liked. I'm hopeful that it will look slightly less awful next week when Niklas begins his Christmas tour of Illinois. If nothing else, I'll stand next to him all the time, thus making him look relatively awesome.
---
2009-12-20:
Well, Josh headed back to Columbus today. Niklas certainly had a great time while he was here. This was Niklas's first experience with a roommate(Josh slept on his top bunk), so that was cool. Apparently, Niklas giggles now and then while he's sleeping. I assume this happens because he's dreaming up some mischief. Niklas also took Josh to the Children's Museum, Heaven on Seven (which has the best Cajun food in the city) and to his music class. Music class was quite a treat as Josh and I were both learning that don't recover from an evening of drinking the way we used to.

Josh gave Niklas a baseball glove, a baffling game for the Wii (foolishly recommended by me) and a penguin fishing game for Christmas. The fishing game is proving to be irritatingly popular. It features a disc that spins around with twenty or so penguins on it that you fish out with little fishing poles. It's fun for fifteen minutes or so, but Niklas like to play over and over again until it feels like the game's gone on as long as the Super Bowl. Still, it's can't compete with the musical Christmas card Grandma and Grandpap Vennard sent when it comes to things that Niklas loves that I cannot stand. I never liked "Rockin' Around The Christmas Tree" to begin with, and fifty or so listens over the past week haven't made me like it anymore.
---
2009-12-23: Right, then. The past few days have been pretty laid back for Niklas. He's been laying low so as to keep his "Nice" status on Santa's list. Things pick up today, though, as Niklas is about to embark on his annual whirlwind Christmas tour of Illinois. As an added bonus, this year does not involve driving to Illinois from New York City, so there's that.

Here are a few pictures of Niklas we took while Josh was in town.

Niklas wishes everyone a Merry Christmas (or a belated happy Hannukah)!
---