Pictures


---
News

2009-05-03: So Andrya and I took Niklas to the beach today. Niklas and I were out in the water playing "throw Niklas up into the air" when a decent size wave hit us and I got a mouthful of water. I spit the water out and Niklas started laughing like a madman. So, then we played "Daddy spit water" for a while. I'm sure I will in no way regret this in the coming weeks and months. Anyway, it wasn't all throwing toddlers around and teaching them to spit. We also played in the sand, panned for gold (unsuccessfully) and carried eight or ten buckets of water out of the ocean so we could sprinkle water all over the place using Niklas's sprinkler bucket thing. A fine time was had by all.

Yesterday was pretty laid back. Niklas woke up early and helped Andrya bake some biscuits, then we watched a bunch of the Disney Channel. Oh, how I wish Niklas had no interest in the Disney Channel. After his nap, I watched a hockey game the results of which were quite displeasing and then we went for a drive. Niklas impressed Andrya with his ability to sing Clutch songs. I think impressed is the right word.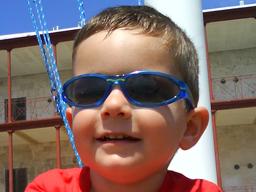 New pictures? About time.
---
2009-05-05: Usually, Niklas will insist that I sing along with whatever song is playing on the radio in the car. Occasionally, though, I'll be singing (such as it were) and Niklas will shout "No! No! No! You don't know the words to this song!" even though I clearly do know the words to the song. My efforts to explain to him that I've had whatever song it is memorized since well before he was born are generally greeted with more shouts of "no". Fine, that's fine. I'm just they guy who's spent approximately 50% of his entire lifetime income on music, how could I possibly know the words to Solsbury Hill? Other things that have gotten my shouted down lately include singing the (horrible) Special Agent Oso song when Special Agent Oso wasn't on, countering Niklas's suggestion that we go to the playground with an offer of a trip to the zoo and dancing the Mickey Mouse Clubhouse hotdog dance. I probably deserved the shouting on the last one.
---
2009-05-10: My, it's been a while since I've posted an update. Is it because Niklas has ceased to be cute and entertaining? Obviously not.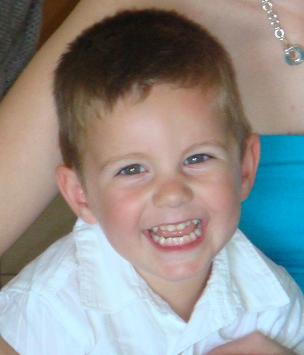 It probably has something to do with work and playoff hockey, then. Anyway, Niklas has been tearing it up as is per usual. I finally unleashed him on the pool the other day. He had a fabulous time dumping water on my head, dumping water on his own head and generally splashing about. He even tolerated my efforts to teach him to swim. Today, he Mother's Dayed it up with Andrya. I've got some pictures of that, but obviously I cannot be counted on post things in a timely matter.
---
2009-05-13: It's been a busy few days for Niklas. Grandma and Pa-Pa Meeker came in on a cruise ship for a few days, so Niklas has been showing them around the island. Also, he's been taking advantage of the disruption in his normal schedule to avoid naps like they were poison instead of treating them like the totally awesome things that they are. I could really go for a nap right now. Anyway, we toured the East End, the West End and Hamilton and Niklas climbed to the top of the lighthouse by himself for the second time this month. He also made Andrya and me nervous with his complete lack of fear while running about on the top of the lighthouse. While I'm pretty sure he couldn't force he head between the rails surrounding the walkway, I don't have any measurements to prove that. Anyway, Niklas had a fabulous time playing with his grandparents and a good time was had by all.
---
2009-05-18: So, when Niklas's grandparents were here last week, we took them out to Dockyard to see the Maritime Museum. Niklas is a big fan, as there are dolphins, all kinds of things to climb on and sheep poop for days. Also, there's a big clock. This is where I would put a picture of the big clock, but you know. As a further digression, let me tell you that the big clock is not the clock that was in the Clock Tower Mall, which is is somewhat confusingly named these days as it currently features no clocks. Anyway, the big clock in the Museum is a two story deal with it's complicated gears and wheels and spinny things and whatnot on the second floor and a giant pendulum that hangs down almost to ground level. On the lower level, the pendulum is protected by a locked glass case. The clock mechanism (and the base of the pendulum), on the other hand, is surrounded by a lovely cedar rail with ornate spindles. These spindles are, unfortunately, spaced more than one Niklas width apart. I'm sure you see where this is going. One minute, Niklas was standing next to me on the visitor approved side of the railing, the next, he was trying to ride the pendulum like a horse. After a few shocked and horrified seconds, I was able to fish him out and we fled the scene. On the plus side, the clock seemed to still be keeping time correctly when we left.

Niklas's potty training is continuing at a tolerable pace. When we started out, he would go pee-pee by sitting down on his potty. Lately, he wants to stand up all the time which is fine on account of that's the way it's supposed to go. However, Niklas has trouble with the aiming. It's not that his aim is particularly poor, it's that he will not do the aiming himself. Usually, I take care of that so as to keep pee from being hosed about my home or the public restrooms of Bermuda. The other day, though, in an apparent improvement, Niklas decided that he would aim himself. He had everything lined up pretty good pre-pee and I had high hopes. These were dashed when the pee started to come out. Apparently, the pee surprised him (which is kind of hard to figure out) and he threw up his arms and yell "oh!" whilst pee went pretty much everywhere except the toilet.
---
2009-05-20: We had a pretty good day today. Niklas and I went to the zoo where Niklas spent an inordinate amount of time in the play area. The highlight, though, was when Niklas fell into a toilet. Now, when we're out and about, Niklas will stand on the seat of the toilet to go as he is too short to hit the toilet from the ground and the openings are too big for him to sit on with the seat down. Standing on the edge of a toilet seat would seem to provide a prime opportunity for a swan dive into the toilet, but seeing as how two year olds spend about a quarter of their time falling down, I keep a pretty good hold on him so as to prevent mishaps. Once he's done, though, I set him down on the ground so he can flush the toilet. He was particularly excited about that today and he took off running as soon as his feet hit the ground. I'm not entirely sure what happened next, but the next thing I know, there's a splash and Niklas's arm in the toilet up to his shoulder. He ended up soaking his shirt and shorts and, in his own words, "I get toilet water in my eyes". This freaked him out pretty severely and he screamed like he had been shot with some sort of ray that makes you scream a lot for what seemed like a year but was probably only a couple of minutes. Anyway, it seems that your own urine can't blind you, so I guess we're good.
---
2009-05-24: Here are some new pictures. This is good news for my mom who now will not have to figure out how to get flaming torches and a pitchfork onto a plane. In other news, Niklas has been spending a bunch of time in the water. I'm working on getting him to kick his feet in a manner that will propel him around the pool. We've had a bit of success with that, but mostly he moves his legs like he's running. He also went to the beach today where he had a fabulous time running into and out of the water and climbing on dangerously slick rocks. He seems to have no trouble with those, but he did manage a pretty spectacular faceplant whilst running about on the sand. That was nothing that having Andrya and me fetch forty or fifty thousand buckets of water for him couldn't fix, though.
---
2009-05-27: So it's a bit of a sad day here. Niklas finally figured out that when he wants to do something himself, he should say "I do it myself," whereas he had been saying "mine self" which was much funnier. I think it's funnier still if you assume he's using the German "mein", which is why I called him "Mein Self" for a couple of weeks. Oh, well. It was a good run.

For anyone who's interested in a potty training update (and really, why wouldn't you be), Niklas has been aiming his own pee-pee at the potty. We let him throw a couple of Cheerios in toilet each time so he can have some target practice. The only downside to this is that he sometimes pees a Cheerio to the side and then ends up with about 25% of his pee hitting the toilet, 50% splashing on the rim and 25% going down the outside of the bowl. He's got a ways to go before he meets the 80/10/10 standard that I've set in the house.
---
2009-05-28: And now, the latest installment of Great Moments In Semantics: Grandma Meeker brought Niklas a couple of Matchbox cars when she came to visit a couple of weeks ago. One of them is a Tesla Roadster. This morning, Niklas brought it over to me. "This is a sports car," he said. "It's for playing hockey."
---